Student cleared of extreme pornography charge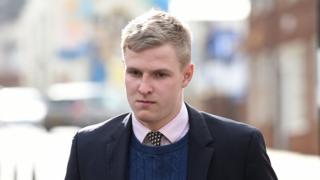 A student cleared of raping a woman at a university's summer ball has been found not guilty of possessing extreme pornography.
Prosecutors offered no evidence against Thady Duff, 22, a student at the Royal Agricultural University in Cirencester.
Mr Duff of Stubbs Hill Farm, Blunsdon, had been accused of storing the images on his mobile phone.
It had been alleged Mr Duff received the images as part of a group message sent using the app, Snapchat.
However Jonathan Stanniland, prosecuting, told Gloucester Crown Court it was not in the public interest to prosecute Mr Duff.
Judge Jamie Tabor subsequently returned a not guilty verdict.
In April, Mr Duff and three other men were found not guilty of raping a woman at a ball at the university in 2014.