Percy Jeeves: Cricketer who inspired PG Wodehouse's butler honoured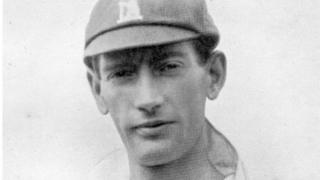 A cricketer who unwittingly inspired author PG Wodehouse to name his unflappable valet Jeeves, has had a poplar tree planted in his memory.
Percy Jeeves was playing in a cricket match in Cheltenham in August 1913 when PG Wodehouse "by chance" saw him play.
Liking the cricketer's bowling action, the young author would remember his name in 1916 and immortalise it.
Jeeves died in July 1916 in the Battle of the Somme, without ever realising he had inspired Wodehouse.
The tree was planted earlier, during the Cheltenham Cricket Festival, at the Cheltenham College Ground where Wodehouse saw Jeeves play.
Hilary Bruce, chair of the PG Wodehouse Society, said: "We wouldn't have Jeeves the famous character unless we'd had Jeeves the cricketer.
"It was purely by chance that the author PG Wodehouse was at Cheltenham cricket ground watching a match in which Percy Jeeves was playing."
While living in New York in 1916, Wodehouse was looking for the right name for an "all-knowing valet" and recalled the young cricketer.
"Names were always important to Wodehouse and suddenly Jeeves floated into his mind and he thought 'that's it - that is the name, that is the one I've been looking for'," said Ms Bruce.
"Jeeves became world famous but sadly Percy Jeeves would never know that because he was killed on the Somme."
Jeeves, who was born in 1888 near Dewsbury, in Yorkshire, grew up in Goole before playing county cricket for Warwickshire.
Comic novelist Wodehouse brought the Reginald Jeeves character to life in a series of short stories and books in which the knowledgeable and perceptive butler helped his master Bertie Wooster cope with life's vagaries.