'Well known' Cheltenham swan shot in head with crossbow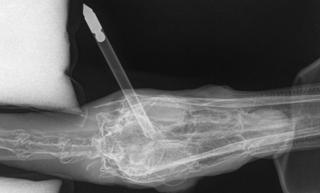 A swan said to be "very well known" in its town could die from a crossbow shot to the head, a vet has warned.
The bird known as George was found by a member of the public in Cheltenham's Pitville Park on Tuesday morning.
It was taken to Vale Wildlife Hospital, where the bolt - which was lodged in its left eye - was removed.
Caroline Gould, from the wildlife hospital, said: "He's certainly lost his eye and we don't know whether he's going to survive this trauma."
The male swan is "very well known" around Cheltenham and has been there for years, according to Ms Gould.
She said: "There's a pair - George and Zelda - they've been on Pitville lakes for years and years.
"Hopefully he will make it but at the moment he is critical and I wouldn't like to say one way or the other."
Anyone with any information is asked to contact Gloucestershire Police.