Gloucestershire butcher fined for illegal sales and dirty shop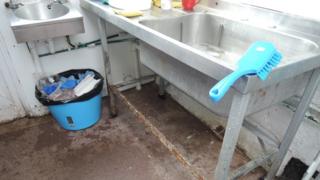 A butcher has been ordered to pay £54,000 for selling meat to pubs and restaurants without authority from the Food Standards Agency.
Inspectors also found David Tomlin of The Country Butcher in Huntley, Gloucestershire, had failed to maintain hygiene standards on the premises.
Tomlin, 66, of Hucclecote admitted 10 offences.
He was fined £24,000 and ordered to pay costs of £30,000 at Gloucester Crown Court.
The Country Butcher shop closed down in December.
Forest of Dean District Council said the breaches of food hygiene were discovered during a routine visit to the shop in March 2015.
Inspectors served improvement notices but subsequent visits found Tomlin had failed to take adequate action.
Unauthorised sales
On one follow-up, paperwork was found which led to the discovery of hundreds of thousands of pounds worth of unauthorised sales to London restaurants.
Councillor Marrilyn Smart, cabinet member for the environment, said: "We have a responsibility to ensure that all food premises and businesses in the district comply with food hygiene regulations.
"When low standards of hygiene are identified, such failings are treated seriously, acted upon and if improvements are not made by the food business operators then we have a duty to take legal steps to protect the health of the public."