Gloucestershire Airport receives emergency loan from two councils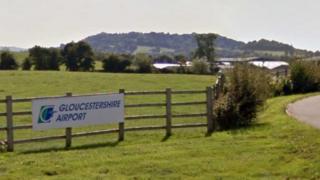 Gloucestershire Airport is to be given a six-figure emergency loan by two local councils.
Emergency meetings were held last month to discuss the future of the airport, which is part-owned by Gloucester City Council and Cheltenham Borough Council.
The loan is thought to be about £750,000, which the airport says will help deliver its 10-year business plan.
The authorities said the total amount of the loan was "split equally between the two shareholder councils".
'Still owes £1.5m'
Gloucester City Council said: "It was agreed that both councils would lend the airport money to support its business plan.
"Gloucestershire Airport still owes the councils £1.5m of loans which relate to the previous investment in the safety of the runway."
The airport said it "welcomed the recent shareholder approval of a borrowing facility" and that the "loaned funds will be repaid with interest at normal, commercial rates".
Gloucestershire Airport is home to more than 180 aircraft and 50 staff, and supports more than 40 on-site businesses which provide 1,000 jobs.