Gloucestershire Warwickshire Steam Railway appeal tops £1.3m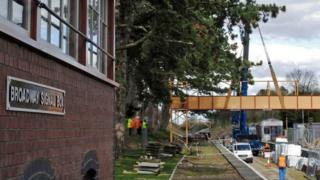 An appeal to raise £1.25m to complete the "last mile" of a heritage railway line has exceeded its target.
It means the Gloucestershire Warwickshire Steam Railway (GWSR), currently running between Cheltenham and Laverton, can extend to Broadway.
A public share scheme raised £1.33m, which means repairs to an embankment costing more than originally expected can also take place, a spokesman said.
The extension is due to reopen next March, almost 60 years after it closed.
Chris Bristow, from GWSR, said he was "humbled by the generosity of so many people".
"We passed our target with four weeks to spare," he said.
"In railway parlance, we have completed our journey well ahead of schedule.
"Without a shadow of doubt it means we can run our first trains into a brand new Broadway station on 30 March 2018, that's when the champagne corks really will be popping."
Mr Bristow said an embankment near Broadway, Worcestershire, which had been built on soft ground and which had been continually repaired over the years, needed to be stabilised.
New track
It would cost £400,000, which was more than originally anticipated, he said.
He added the extra £80,000 raised, along with contributions from Gloucestershire Warwickshire Railway Trust and GWSR reserves, meant the repairs could go ahead.
Work to rebuild Broadway station still needs to be completed after the original building was demolished in 1963, and new track also needs to be laid.
GWSR is run by over 900 volunteers and carries about 90,000 passengers per year.