Gloucestershire PCC accused of spit hood u-turn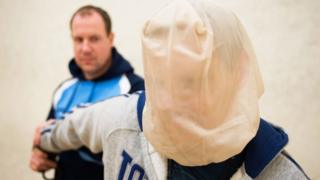 The Police Federation has accused Gloucestershire's Police and Crime Commissioner (PCC) of a U-turn over the use of spit hoods in custody suites.
A trial of the hoods was expected to begin in the region this year, but PCC Martin Surl has now said the force "will not be rushing into the plans".
He said it is a "highly emotive issue" and called for a public consultation.
However, the Police Federation asked why the PCC was "interfering in operational policing decisions".
It said it would be "urgently" addressing the issue with Mr Surl and force managers.
Spit hoods are designed to stop people in custody spitting or biting, but their use has been heavily criticised.
'Vile act'
Liberty, Amnesty and Inquest are among the human rights groups which have spoken out against them, describing them as cruel and degrading.
However, Gloucestershire Police Federation's Sarah Johnson described officers being spat at as a "vile act" and said their protection is "paramount".
She said she was "beyond angry" at the PCC's intervention, and believed any decision over the use of spit hoods was a matter for the Chief Constable.
Mr Surl, a former police officer, said in a statement: "I know from personal experience that any attack on officers carrying out their duties is completely unacceptable, and that extra protection is sometimes necessary.
"But the use of spit guards has caused controversy in other parts of the country with claims they breach suspects' rights and could even be dangerous.
"The chief constable and I are in total agreement that the safety of our staff is paramount, but I am yet to be convinced that spit guards are the answer."
A BBC Freedom of Information (FoI) request revealed last year the devices were being used by a third of the UK's police forces,