Peregrine falcon nest disturbed in Forest of Dean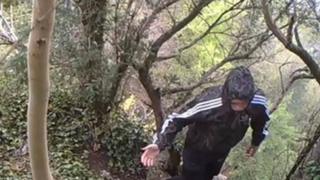 Concerns have been raised after a peregrine falcon's nest was disturbed in the Forest of Dean.
Police have released an image of a man they want to speak to "seen climbing over a cliff" near the nest on 24 May.
Gloucestershire Wildlife Trust said disturbing the nest "risks the birds failing to breed this year".
Peregrines are a protected species under the Wildlife and Countryside Act 1981 and to kill or injure one is a criminal offence.
'Targeted and persecuted'
Colin Studholme, from Gloucestershire Wildlife Trust, said: "It's very worrying. Peregrines are such a rare species and they're very vulnerable to disturbance.
"Historically peregrines have been targeted and persecuted, and they've made a bit of a comeback in recent years.
"There's probably half a dozen pairs or more in Gloucestershire and that's still not that many. We really do need to protect them and create an environment so more pairs can establish a viable population."
Gloucestershire Police is appealing for witnesses to come forward. Mr Studholme said successful prosecutions can be difficult.
He said: "It's often the case that police can't get enough evidence so it would be great if people can come forward.
"The bird is nesting over the side of a cliff, so whether anyone actually witnesses it, if they did, it would be great if they could tell the police.
"Often the problem is that whoever disturbs these birds often does it when there's no-one around."
PC Cath McDay said: "The intentions of this male are as yet unknown but it is clear that there would have been disturbance to the peregrine nest at this critical time.
"We are currently in the breeding season. Peregrines are breeding in the Gloucestershire region and there are a very small number of nest sites, monitored closely by a group of volunteers from the Gloucestershire Wildlife Trust."
Peregrine falcons
180mph (290km/h)
the top diving speed of a peregrine falcon
1,400 the number of breeding pairs in the UK, according to the latest figures

365 the number of breeding pairs in the UK back in 1961

3-4 the number of eggs a hen would usually lay in a year
Andy Thompson