WW2 veterans reunion held at Gloucestershire Airport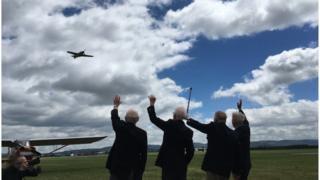 More than 180 veterans are flying into Gloucestershire Airport to take part in reunion event.
Project Propeller, which is in its 19th year, saw the veterans being flown in to Staverton by 120 volunteer pilots in private light aircraft.
Air Operations Manager Graham Cowie said: "It's a privilege and honour to be part of it all."
One of the veterans is 101-year-old Mary Ellis, who was being flown in from Sandown on the Isle of Wight.
Gloucestershire Airport was an RAF base before it became a commercial airfield.
Mrs Ellis is one of the last surviving former pilots of the Air Transport Auxiliary (ATA).
She delivered Spitfires and bombers during World War Two.
Other veterans taking part are three ex-prisoners of war (POW) who took part in the Long March, when the Nazis force-marched 10,000 allied POWs to avoid them being liberated by the advancing Russian forces.