Dowty Propellers builds new Gloucester base after 2015 fire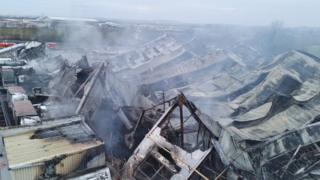 An aircraft firm has announced it will reopen a base in Gloucestershire after a devastating fire in 2015 completely destroyed its buildings.
Dowty Propellers, which makes propeller systems for the military and commercial sectors, used to be in Staverton.
President of the firm, Oliver Towers, said: "We are delighted to be continuing our long history with the Gloucester area."
The new location has not yet been revealed but is set to open in 2019.
More details will be released about its location once the tendering process is complete, which is likely to be at the end of the year.
In February 2015, the fire destroyed the operating headquarters and blade manufacturing facility.
The firm has also announced the start of a £20m Digital Propulsion project. Its aim is to improve the capability of propeller and propulsion systems by reducing noise and fuel burn.
This has been match funded by the government, which has given the firm a £9.5m grant.
"The decision to stay in this area was driven by the capabilities and commitment of our workforce that stretches back over 80 years.
"This decision, along with our launch of the UK-supported Digital Propulsion project, will enable us to maintain our position as a world leader in propeller systems with the latest technology, supported by world-class research and development," added Mr Towers.
Dowty Propellers, which employs about 340 people, has been based at Mitcheldean since early November 2015.
The team will remain there until the new base is ready in 2019.