Sue Barker wins planning battle over low ceilings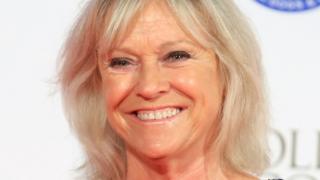 Sue Barker has been given the go-ahead to raise the roof of her Cotswold home - after her husband repeatedly hit his head on the ceiling.
The TV presenter applied to the council for permission to increase the height of her home in Stanton, near Broadway in Gloucestershire by 1.5m (4ft 11ins).
According to planning documents, Lance Tankard had knocked himself "clean out" by crashing into the low ceilings.
Despite objections from some residents, permission was granted.
In a letter to Tewkesbury Borough Council, Mr Tankard said there were "several pinch points" in the bedroom area of the couple's home that were "downright dangerous"
"I have once knocked myself clean out and twice had cuts to my head," he wrote.
"I can only place a small chest of drawers into these areas and then limbo up towards them if I want to open a drawer."
The council was also asked to grant retrospective permission for an extension to the property.
Neighbours had objected to the development, with one saying it had a "disproportionate and overbearing effect" on nearby houses, but the permission was given.
Barker won the French Open in 1976 and the following year reached the semi-finals of Wimbledon. She anchors the BBC coverage of the two-week event, as well as presenting A Question of Sport.