Mother sent 'hurtful' letter about 'screechy' son with autism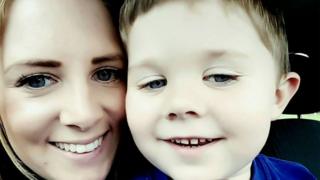 The mother of a child with autism says she feels hurt by neighbours who sent her an anonymous letter complaining about the noise her son makes outside.
Jessica Green, of Berkeley, Gloucestershire was told to take action otherwise the neighbours threatened to report her family to social services.
Henry, three, has nonverbal autism and uses high pitched noises to express himself when he is in the garden.
The letter describes Henry as 'it', and the "screechy, screaming child".
The sender also questions whether Henry is "neglected".
"People can no longer sit out in the garden to enjoy the weather because all we hear is your child shrieking from across the street," the letter continued.
It added that residents were "sick to death" of hearing him screaming "continuously" and stated that unless action was taken "a group of us will be talking to tenant services at Stroud Council and making a noise complaint against you".
Mrs Green said the letter was "really hurtful" and she was "absolutely astonished" at the writer's "ignorance".
She has posted a response to the "vicious and blinkered letter" on Facebook which she hoped would "raise awareness and promote understanding and acceptance of people that are different to ourselves".
'Form of bullying'
She said: "The 'it' you are referring to is my three-year-old son Henry who has autism and is nonverbal.
"He uses high pitch noises to express himself and how he is feeling; be this happy, excited or sad."
Mrs Green said the letter "shows a selfish, narrow minded and uneducated view" and "every person has a right to a voice and to be heard, and for Henry he has his own unique way of doing this".
She added: "I have taken the letter as it was intended, as a form of bullying and of a threatening nature".
Stroud District Council said it was offering support to the family, and Mrs Green confirmed she had filed a complaint with Gloucestershire Police.