Dredging helps keep Gloucestershire canal route clear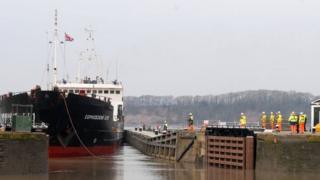 Work is under way to remove 10,000 tonnes of silt from a Gloucestershire dock to improve navigation.
The Canal & River Trust says the work at Sharpness Dock will keep the route from the River Severn into the Gloucester and Sharpness Canal clear.
It is using a mud pump to suck the silt from the river bed onto a boat before it is returned to the estuary.
Lewis Kneale, from the trust, says it is probably the largest dredge at the dock for 20 years.
"Sharpness is such an important site for ships from all over the country, and the world, so to dredge like we're doing is absolutely vital," he said.
"Although most of the canal is tranquil... the dock continues to play such an important role for the local area and industry throughout Britain."
The docks can handle ships to 6,000 tonnes with cargo, maximum beam 16.76 m and unlimited length.