Art dealer Jonathan Poole jailed for £500k thefts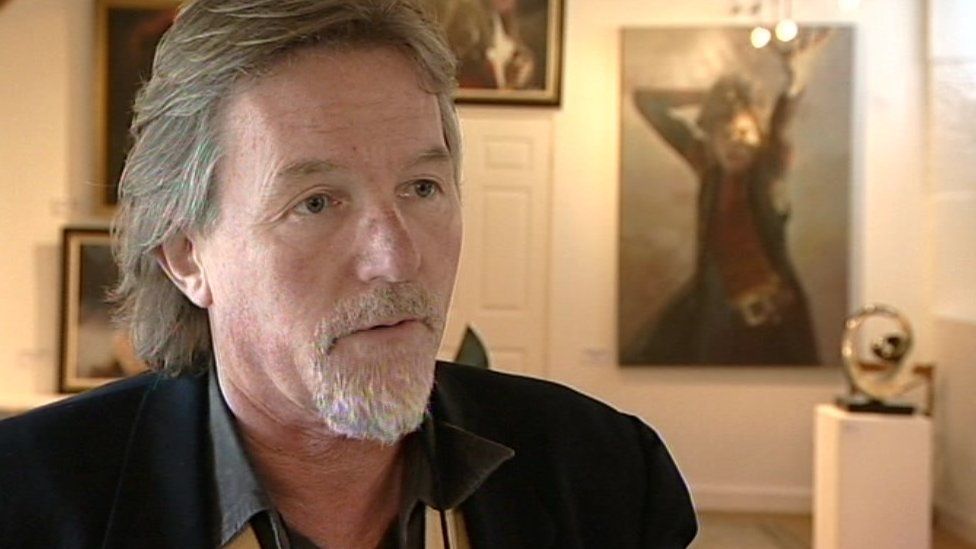 A celebrity art dealer stole pieces worth almost £500,000 in a crime compared to a Hollywood blockbuster.
Jonathan Poole, 69, of Poulton, near Cirencester, admitted stealing paintings and selling artworks he was not entitled to.
His crimes were compared to the plot of The Thomas Crown Affair at Gloucester Crown Court, where he was jailed for four years.
The court heard he represented the art estates of John Lennon and Ronnie Wood.
The stolen items included paintings of Princess Diana, Kate Moss, Mick Jagger, Bob Dylan, Jim Morrison and Bono. Some pieces have never been traced.
The thefts were made over three decades, with the pieces stolen from British collectors, including Dire Straits' bass guitarist John Illsley, and a German art dealer.
Poole, an acclaimed wildlife artist, owned two art galleries in the Cotswolds but they closed after he ran into financial difficulties. He also tried to take his own life, the court heard.
James Ward, prosecuting, said: "He was trusted by the wealthy individual who invested in art.
"He was trusted by the internationally acclaimed celebrities, those household names whose art estates he represented, such as Ronnie Wood, Miles Davis and the legendary John Lennon."
He went on to dub the case The Jonathan Poole Affair after the Hollywood film The Thomas Crown Affair.
"Whilst Thomas Crown stole as a challenge, because his world had become too stiflingly safe, Jonathan Poole stole either to fund a gambling habit, or to stash away money for later life or to fund a lifestyle he couldn't afford," Mr Ward said.
"Although admitting to the police he was a gambler, the crown shall never know the real motive for him thieving on such a grand scale."
At a previous hearing, Poole admitted 26 charges of theft and fraud between 1986 and 2013. He denied a further 32 similar charges, which were ordered to lie on file.
Judge Michael Cullum said his clients placed a lot of trust in him.
"You were well connected, better than almost anyone, to know what was in your possession and how much it was worth," he said.
"The references placed before me make it absolutely clear that your professional knowledge was undoubted and highly regarded.
"Against that, you were being dishonest in very many aspects of your life."
Related Internet Links
The BBC is not responsible for the content of external sites.