Ten men arrested in dawn drugs raids in Gloucestershire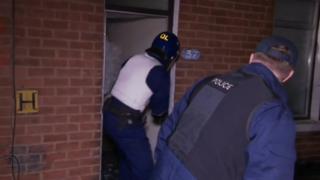 Ten men have been arrested after drugs with an estimated street value of £750,000 were seized in a series of dawn raids in Gloucestershire.
Officers raided 11 properties in Gloucester and Cheltenham and four car-wash premises as part over two days.
Eight men from Gloucester, aged 20 to 33, a 21-year-old man from Norwich and a man, 34, from Essex were arrested.
A 17-year-old girl found to be "working in inappropriate circumstances" was also taken away by a safeguarding team.
The raids, on Wednesday and Thursday, were part of Operation Cleveland which was set up following a tip-off about organised crime in the county.
Gloucestershire Police said cannabis farms were discovered in six properties in Gloucester and Cheltenham and "Albanian gang members" were found in several properties.
A spokesman for the force, said the "substantial" amount of cannabis plants found at the farms was "believed to be valued at around £750,000".
Det Insp Ian Fletcher said: "This two-day operation resulted in the disruption of serious organised crime gangs operating in Gloucestershire whose criminal activity has had a detrimental impact on our communities.
"One of the cannabis farms was located directly opposite a primary school in Gloucester. These gang members have no regard for the safety and well-being of those living in the communities in which they are operating."
All the men are being held for offences including fraud, the supply of class B drugs and the manufacture and production of class B drugs.