Steel art sculpture to be unveiled in Cheltenham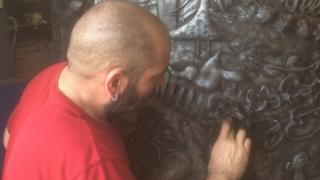 A large steel sculpture telling the story of a town's community is to be unveiled later.
The artwork, on the pavement outside St Paul's Old School in Cheltenham, features scenes, rendered in galvanised steel, of local landmarks and memories.
Jane Clatworthy gathered ideas for the 8ft (2.4m) planter through workshops and conversations with the community.
She collaborated with artist Matthew West who welded the images into the steel structure.
He said he enjoyed the project "immensely" and learnt a lot.
"It's old people's memories and kids' interpretations in drawings. It's about history and the way people feel about St Paul's," he said.
The sculpture features drawings of St Paul's Church, the pub and former maternity hospital.
It also represents memories of street parties and historic events such as bombs being dropped on Brunswick street during The Blitz.
Ms Clatworthy encouraged children to draw their memories then transfer them to clay which could be translated straight on to metal.
St Paul's Road Area residents' association commissioned the £7,000 project, which was funded by the council with money gained from a hotel development.
The planter is being unveiled by local artist PJ Crook outside the School House Cafe in Cheltenham.