Gloucester's 'Royal city' bid halted despite 60/40 backing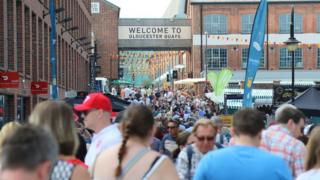 A bid to seek royal city status for Gloucester is to be dropped despite public backing for the move.
Politicians were considering whether to petition for the title, which can only be bestowed by the Queen.
A public consultation led by Gloucester City Council showed a 60/40 split in favour of the idea.
However, council leader Paul James said that was not a "strong enough mandate" to proceed - but the proposal could be revisited in the future.
The feedback from the 514 people who responded to the public consultation will go before the council's cabinet on 8 November.
The only royal towns in England are Royal Leamington Spa, Royal Tunbridge Wells and Royal Wootton Bassett. Sutton Coldfield also has Royal status.
It is the reigning monarch who decides to bestow the honour.
'Majority in favour'
Petitions either come directly from the prime minister or are made through the Cabinet Office.
Cllr James said: "The consultation result shows a majority in favour of the idea of pursuing Royal City status but it's a 60/40 split so it's quite a close thing.
"In my view that doesn't give us a strong enough mandate to petition for it at this point in time so it's not something we're going to pursue now, but that doesn't stop it being revisited in the future.
"If you compare it with the Brexit vote then it is pretty clear, but applying for Royal City status is such a high bar and something where I think you need to demonstrate really strong support for the idea."