Gloucestershire children's services changes 'too slow'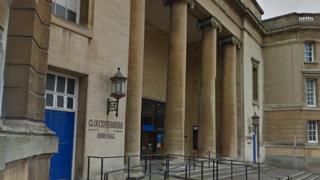 Improvements to children's services in Gloucestershire have been "too slow", according to a government watchdog.
In June, Ofsted found "serious and widespread failures" in children's services in the county, rating them inadequate.
It has since written to the county council criticising the time it has taken to implement changes.
However, it did praise the decision to remove the senior management team, which had been particularly criticised.
Ofsted's concerns were raised in the interim letter sent to the Conservative-controlled local authority on 18 October.
The letter follows the inspection report, published in June, which was especially critical of the department's senior leadership team, expressing "serious concerns" about them.
The report said "too many children were being left in situations of risk of significant harm for too long" because dangers were not recognised.
Ofsted also found that standards had "deteriorated significantly" since the department was last rated inadequate in 2011.
The council admitted it had "fallen short" but had made "major changes".
Cabinet member for children's services, Richard Boyle said: "We have demonstrated progress in a number of areas but there are other areas where progress hasn't quite been achieved as we would have liked, but we have plans to tackle those areas."
"I'm confident that the plan we've got is the right plan to make sure we can turn around the fortunes of children's services."
Gloucestershire Liberal Democrats leader Paul Hodgkinson said: "Everything should be on the table. Bad news must be shared with the public, as well as good news."
Lesley Williams, leader of the Labour group, said there was cross-party agreement that "what mattered was that we got this service right for the children in our county".