Tewkesbury: Most homes reconnected with water after burst pipe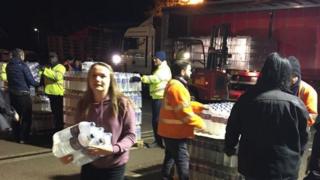 Most of the 10,000 homes and businesses cut off from water for a second day following a burst main have been reconnected.
Severn Trent said it had been repairing a broken pipe in Tewkesbury but the process was "ongoing" and would "continue steadily".
Water was earlier moved from other parts of the network, a spokesman said.
The firm has urged people to "be good neighbours" and consider their water usage.
The supply went off in the early hours of Friday but Severn Trent Water tweeted that most customers who were cut off have now been reconnected.
"There is still a lot of work to do, and the system is very complicated and so will take a few hours to refill, so please bear with us," a Severn Trent spokesman said.
"The burst has happened on a 36-inch pipe, which is one of the biggest pipes we have in our network, and it's located in a flooded field which is making the repair work extremely difficult and trickier than usual.
"Overnight conditions were tricky, the river flooded, and so it's making it incredibly difficult to see what we're dealing with.
"Our priority has been to get supplies back on, before fixing the burst, so we're continuing to try and move water around the network in different ways and we're using a fleet of 20 tankers to inject water directly into our pipes to help get the water back on as quickly as we can."
More than 296,000 litres of bottled water has been handed out, the company said.
Two bottled water collection points have been set up at Morrisons in Barton Road and at Tewkesbury School in Ashchurch Road.
A third collection point that was in Gloucester Road car and coach park has been closed and will be moved to a new location.