Rod Hansen is Gloucestershire police chief constable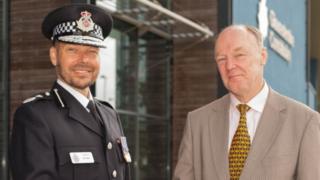 Gloucestershire Constabulary has confirmed the appointment of its new permanent chief constable.
Rod Hansen had been the acting chief since the retirement of Suzette Davenport in April.
The 51-year-old was selected by Police and Crime Commissioner Martin Surl following a two-day recruitment process.
Mr Surl said Mr Hansen, who started his career at Avon & Somerset Police in 1988, had "outstanding qualities".
He said: "I have seen how Rod has performed as temporary chief following Suzette Davenport's retirement and, while we could not judge him on this alone, I have no doubt his leadership skills and intellectual capabilities were why he had the field all to himself."
Mr Hansen joined Gloucestershire Constabulary as deputy chief constable in May 2013 and took over as chief constable in May 2017.
Following his appointment, he said: "I remain determined to help stabilise the organisation in testing times, ensure the constabulary stays locally connected to its communities and prepares itself to embrace a highly digitised society."