Woman loses bid to evict man from dead mother's house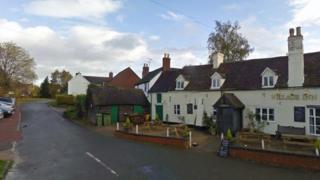 A woman has lost a legal battle to evict her dead mother's partner from her parents' Gloucestershire home.
Lynn Lewis had argued against court approval of the transfer of the house to Thomas Warner, 91, after paying her a fixed price for it.
But a judge ruled Mr Warner, who lived there with her mother, Audrey Blackwell, for 19 years before her death in 2014, could remain.
Lawyers had argued he was too rich to need the house in Twyning Green.
But, at the Court of Appeal in London, Sir Geoffrey Vos backed the earlier judgement, which states that although Mrs Blackwell had left the house to her daughter in her will, she was still obliged to make "reasonable provision" for her partner when she died, despite them not being married.
'Unhappy and stressed'
Sir Geoffrey said the decision, which also stipulates Mr Warner should buy the house from Mrs Lewis for £385,000 rather than allow her to place it on the open market, was a "sensible pragmatic solution", given his age and poor health.
The court was told Mr Warner started living with Mrs Blackwell in 1995 and was in a relationship with her until she died, contributing towards the running costs of their home.
He and Mrs Lewis previously enjoyed a "friendly" relationship while her mother was alive, but it rapidly went downhill once legal action started, the court heard.
Mr Warner, who suffers from a range of health problems, told the court he would be "very unhappy and stressed" if he had to move from the house where he had spent the "happiest 20 years of his life".
Mrs Lewis had tried to stop the house being transferred to him and said she instead wanted to put it up for sale.
She told a previous hearing she was willing to sell to the "highest bidder", and that could be Mr Warner if he was prepared to pay that price.
'Entirely permissible'
Her lawyers argued at the appeal hearing earlier this month that Mr Warner was not entitled to have the property transferred to him because he was not in need of any financial provision from Mrs Blackwell's will.
But Sir Geoffrey ruled the transfer was "entirely permissible and indeed appropriate".
Sitting with Lord Justice McCombe and Lady Justice Asplin, he added: "No doubt, had Mr Warner been younger and less infirm when the deceased died, he would indeed have been required to move out of the property and buy himself another one, as he could well have afforded to do.
"But here, the judge plainly thought that requiring him to do so, in all the actual circumstances pertaining at the time of the hearing, should be avoided."