Virtual snowman created by cyclist using app on London streets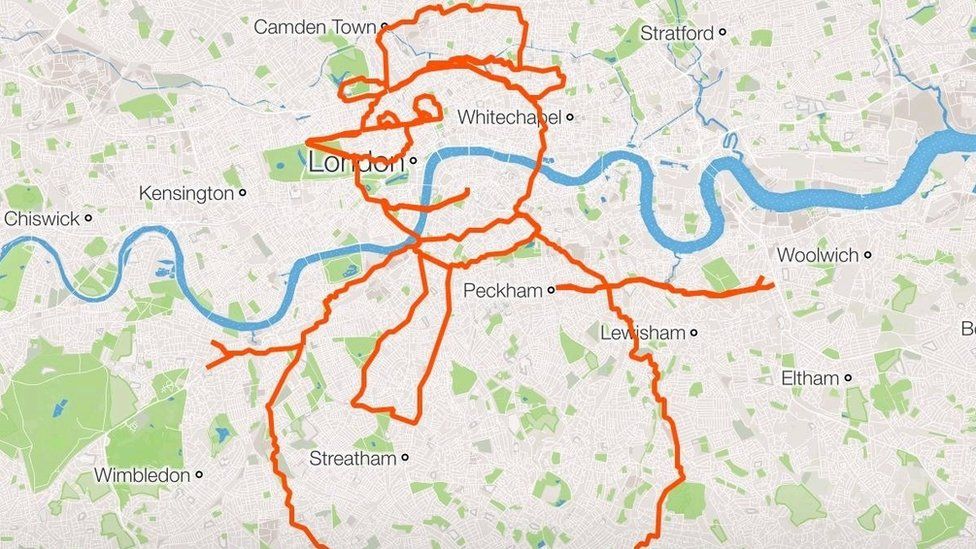 A cyclist has "drawn" an 88-mile (141km) virtual snowman across London.
Anthony Hoyte, from Cheltenham, spent 10 hours cycling the streets of the city, using the exercise and route sharing app Strava to "draw" the giant festive artwork.
The cyclist has created several virtual doodles including Fowl Play in Bristol, which took first prize in the city's Strava art competition in September.
He said: "I wanted to do something festive but it ended up so big."
The 49-year-old started creating his vast doodles about three years ago by plotting drawings on a map and using the Strava app to track his ride.
Since then he has created a "not very good" dog in Cheltenham, an elaborate virtual face on the roads of Cardiff and a pair of elephants in Birmingham.
"Ideally you need a place with a high concentration of roads," he said.
"And then I look at the map and look for things I can draw. It's like looking at clouds and seeing pictures."
His vast snowman was created on paper last year but he was unable to cycle the route after he came "down with the lurgy".
"It took 10 hours, I spent the whole day doing it and did it all in one go," he said.
"I had to stop and find public toilets and went the wrong way a few times but it's so big no one's going to notice."
Along with a flock of birds which "leapt out" of the map at Mr Hoyte, he has also created an intricate head with a full head of hair in Cardiff.
"Lots of people said it looked like Bruce Forsythe or Steve Wright in the Afternoon," he said.
"But faces are impossible and I've made a note to self: don't do hair again."