Broadway gets first train in 57 years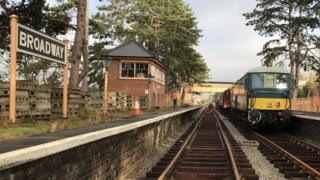 The first train in nearly 60 years has pulled into a station in the Cotswolds after volunteers finished laying the last stretch of track on Saturday.
The Gloucestershire Warwickshire Steam Railway (GWSR) line, which runs between Cheltenham and Laverton, has now been extended to Broadway in Worcestershire.
More than £1.3m was raised in 2016 by volunteers so the line could reach the village for the first time since 1960.
Finance director Chris Bristow said: "Christmas came early for our railway."
Broadway Station was shut by British Rail in March 1960 and demolished three years later.
A spokesman for the volunteer-run line said connecting Broadway station with Cheltenham Racecourse, 15 miles away, had put "Broadway back on the railway map".
"When the last steel rails were laid, volunteers celebrated with a cup of tea," he said.
"Shortly afterwards the first train was carefully propelled into the platforms, alongside the brand new station building."
Mr Bristow, said it was an achievement for all its "900-plus volunteers" and for "all those who had the vision to recreate this railway back in 1983".
It is hoped the station will be open to the public on 30 March.