Gloucestershire 'gang members' issued curfew orders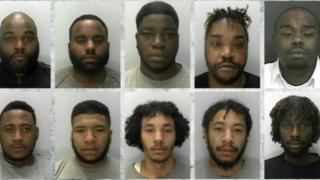 Rival gangs allegedly linked to a drugs feud in Gloucestershire have been put under curfew and prevented from contacting each other.
Police obtained a court injunction against the 10 men following a number of "violent incidents which were escalating in severity" across Cheltenham and Gloucester.
The men have also been banned from entering certain areas in the county.
They face a two-year prison sentence if they breach the conditions.
Between August and December last year there were a number of crimes involving the Hanson-Frost and Venna gangs, including stabbings and shootings.
Police made more than 20 arrests for violent disorder, drugs offences and possession of weapons.
'Violent incidents'
Gloucestershire Constabulary launched the court action in partnership with Gloucester City Council and Cheltenham Borough Council.
A 900 page dossier of evidence was submitted to Bristol Crown Court in order to obtain the interim injunction under the Policing and Crime Act 2009.
The orders apply to the following men, all from Gloucester and Cheltenham:
Isaiah Hanson-Frost, 21
Zuriah Hanson-Frost, 24
Kyerell Hanson-Frost, 25
Hackeem Barriffe, 23
Simon Venna, 33
Andrew Venna, 33
Joel Phillips, 23
Martell Cunningham, 34
Sean Cunningham, 36
Chevon Ryan, 23
Neighbourhood Policing Superintendent Paul Dutton said: "We set out to disrupt the violent incidents which were escalating in severity and causing the Constabulary and the community concern.
"We now turn to our communities to help us by acting as our eyes and ears and to inform us if you see these men in the exclusion zones or associating with each other."
The police will go back to court later this month to ask for the maximum two-year orders.