Spilt milk closes busy Gloucester roundabout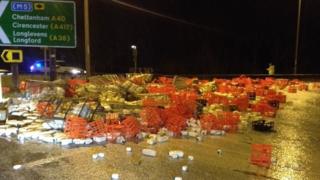 A busy roundabout was closed overnight after hundreds of bottles of milk were spilt onto it.
The spillage happened on the A40 Over roundabout in Gloucester, which was partially blocked for several hours.
Photographs posted on Twitter by Gloucestershire Police show crates of milk which had fallen from a lorry, with milk running over the road.
Officers cleared the scene with the force saying they "appear to be lapping it up".