Cheltenham Festival: Record crowds attend races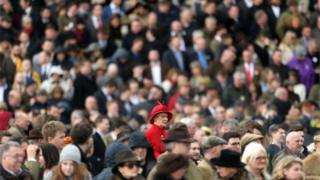 Organisers of the Cheltenham Festival said a record number of people attended the races this year, with 262,637 visiting over the four days.
There was a sell-out crowd for Gold Cup Day on Friday, with 70,684 attendees.
Jockey Club Racecourses regional director Ian Renton praised the team's "Herculean effort" in overcoming bad weather and muddy conditions.
Six horses died during the four-day event, four of which had to be destroyed on the final day's racing.
Organisers said up to 7,000 staff a day were employed during the festival and seven miles of trackway were brought in to get vehicles on and off site.
Mr Renton said: "The team here has been brilliant in coping with the conditions leading up to the meeting - the groundstaff did an unbelievable job - and similarly, it's been pretty tricky out in the car parks and there has been a tremendous amount of work out there.
"It won't have been a particularly happy experience parking cars in the conditions, but the team have put in a mass effort to get vehicles in and out."
The RSPCA called the fatalities of six horses during racing as "extremely concerning" but added a review carried out at Aintree in 2012 had reduced horse falls, injuries and fatalities.
Jamie Stier, chief regulatory officer for the British Horseracing Authority (BHA), said: "Everyone who follows this sport does so because we love these fine animals and it is extremely sad when we lose any horse.
"The BHA will be reviewing the circumstances leading to the fatalities at the Cheltenham Festival. We will examine the evidence from the past week over the next few days before deciding how we will pursue the review."