Wye Valley Walk: Funding plan to reopen river crossing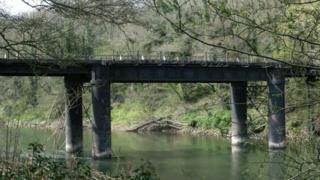 Two councils have applied for lottery funding to reopen a former 19th Century railway bridge across the River Wye which closed because of safety fears.
Lydbrook bridge, between Herefordshire and Gloucestershire, forms a vital part of the 136-mile Wye Valley Walk.
It was used by more than 20,000 walkers a year before it closed two years ago. More than 2,000 people signed a petition for it to be reopened.
The councils say their first funding bid will be decided in July.
Last year, Gloucestershire County Council and Herefordshire Council acknowledged "significant internal and external funding" would be required to repair the bridge.
They said the two rounds of Heritage Lottery Fund bids totalling £1.77m would pay for design and construction work as well as community support projects.
Known locally as Stowfield Viaduct, or the Black Bridge, it was used by locomotives until the early 1960s and is the only river crossing for walkers in the area.