Cleared canal offers alternative commute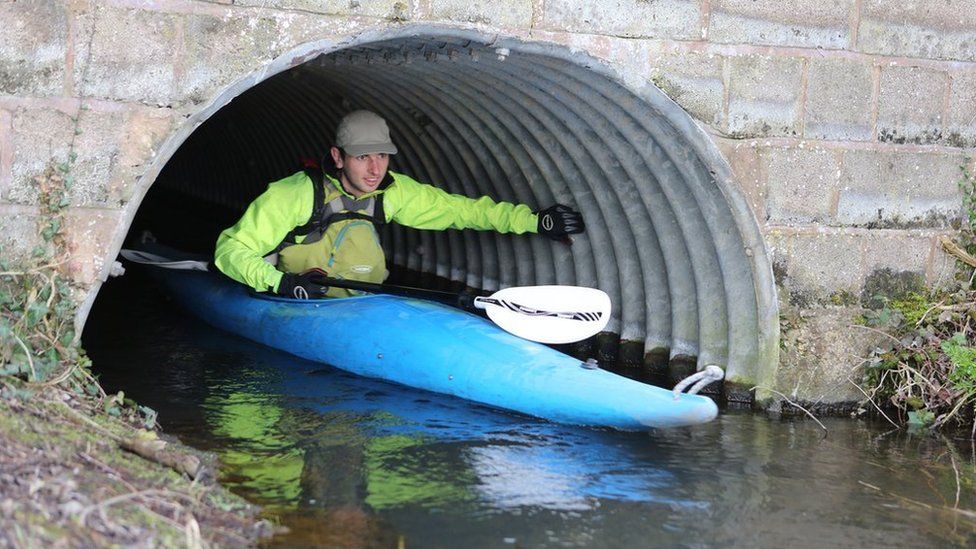 A commuter has started paddling to his office by kayak after the land-locked stretch of canal near his home in Gloucestershire was cleared of trees.
Tom Hards ditched his bus commute in December and now paddles three miles from Stroud to his job in Stonehouse.
The last section of the 6-mile (9km) Stroudwater Navigation was cleared by volunteers just after Christmas.
Mr Hards said the bus commute could take up to an hour but the canal was "traffic free", scenic and "soothing".
Mr Hards said he began "dressing up like a Wally" and taking to the water in his £30 eBay "commuter kayak" at the end of last year.
"The journey itself is uncomplicated with only the two locks to carry the boat around," he said.
"And on the dark and cold mornings at 7am, I use my big cycle lights but there's no traffic so you're not going to hit anything."
However, Mr Hards said the real appeal of paddling to work was "getting closer to the wildlife" - although he does face being attacked by nesting swans.
"In a kayak, they're at eye level and when they puff themselves up and charge at you it's really intimidating," he said.
"But going head-on and playing chicken with them seems to work and they always seem to stop short of the kayak.
"I've also had a rat swimming alongside the kayak, it was the Stroud equivalent of swimming with dolphins."
He added that the bus journey was not "nearly as scenic or soothing".
"And savings on the bus fares can be spent on large breakfasts," he said.
Related Internet Links
The BBC is not responsible for the content of external sites.