Gloucester probe into claims Amey threw away recycling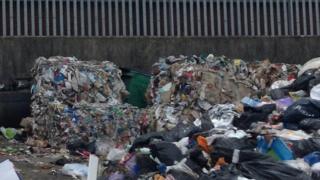 A council is investigating claims that its waste contractor threw residents' recycling into landfill sites.
One employee of contractor Amey told the Local Democracy Reporting Service "bails of tin, paper and plastic" recycling are being thrown away.
"More than 100 tonnes" was "thrown into landfill" because "there were not enough staff to sort it," they said.
Amey disputes what it called "unfounded" accusations and said "no waste has been sent to landfill".
The workers' accounts came after Gloucester City Council issued a service failure notice to the company over "unsatisfactory standards".
'Not enough staff'
A second former employee said: "All we did for 'contaminated' recycling to get rid of it was slowly cut it and put it in general waste.
"Whenever we didn't have enough staff or lorries, we'd get the rejected recyclables, cut the bales up and put it in landfill."
Amey holds a £5.7m annual contract to collect the waste, sort it at the kerbside, and sell it off to optimise income, until 2022.
A spokesperson said: "Occasionally we mix dry recycled materials at our depot, however, it is then sent to a re-processor where it is subsequently sorted for recycling."
Council officials have previously claimed Amey received £50,521 less in payments from recycling companies because of poor sorting.
Councillor Richard Cook, responsible for waste and recycling, also said tonnes of rubbish - equivalent to 150 bin lorries of recycling - could not be accounted for in Amey's records.
"Comparing the weight of recycling collected and the weight of recycling sold, there is a gap of around 2,000 tonnes," he said.
This "lost" waste could be worth £246,509 to the council and taxpayers, he claimed.
The council has ordered that £300,000 be withheld from any future payments to the contractor.
'Complete transparency'
A spokesman for Amey said: "We are aware of Gloucester City Council's concerns.
"We have discussed the issue with them and provided a full written response to every issue raised.
"We can account for the recycled material and have records to support this.
"The details of waste that enters and leaves our depot is fully disclosed to the council so there is complete transparency with regard to all waste movements.
"The shortfall in income was triggered by a decline in the market for recovered materials, ultimately driving down the price of recycled waste."