Wallace the mule refused permission to compete in dressage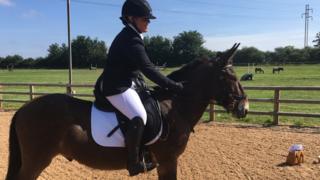 A rider whose mule was refused permission to compete in top dressage events hopes to rewrite the rule book.
Fed up with horses on her team going lame, Christie Mclean, from Stroud, Gloucestershire, asked British Dressage if she could enter rescue mule Wallace the Great instead.
But to her surprise the organisation said only horses and ponies could ride.
She said: "Other than the enormous ears in front of me, there's really no difference to riding a horse."
Wallace, 11, was rescued by Sidmouth Donkey Sanctuary in Devon after he annoyed villagers in Ireland by munching all their flowers.
Lesley Radcliffe, a friend of Christie's, now acts as Wallace's guardian and was delighted when she started teaching him dressage and competing at an unaffiliated level.
But Ms Mclean, 31, competes in entry-level British Dressage, and needs four horses on a team in an event called Team Quest.
'Not a zebra'
As two horses went lame and her own horse regularly competes at a higher level, she had the bright idea of introducing Wallace and approached the ruling body.
She said: "When British Dressage said the rule book only refers to horses and ponies within its affiliated criteria, I was really surprised and disappointed.
"It's not like he's a zebra.
"He has an incredible brain, is so very willing and such a pleasure."
"I don't think it's a case of equine racism but more a case of the rule book being very out of date."
She said there was a common misconception that mules are stubborn but in fact Wallace loves riding out with other horses and has picked up the sport very quickly.
She added: "Mules are often more clever than people give them credit for.
"If they understand why they are supposed to be doing something then they do it, and can even perform better than horses in some cases."
British Dressage told her that the Donkey Sanctuary could advise her on competitions she could enter with Wallace, but "that I'd have to ask venues if I could take him before I went", she said.
A British Dressage spokesman said it could be time to change the rules but certain processes would need to be followed.
Hundreds of people have backed Christie's bid to register Wallace with British Dressage on various forums in the horsing world.
Hannah Bryer, head of welfare at The Donkey Sanctuary, said: ''Mules like Wallace are highly intelligent animals and enjoy various forms of interaction to keep them mentally stimulated.
"Like all equines, mules can be very individual in their behaviour, so it is important that owners work with their mules to determine the most appropriate enrichment activities for their animal.
"For Wallace, it's dressage, but there are plenty of ground-based activities that mules and their owners can enjoy and introduce into their daily routine.''