Driver's blind spot 'caused fatal crash in Cheltenham'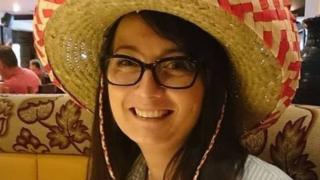 A driver who ran over a woman and killed her as she crossed a busy road "simply failed to see her" partly due to his windscreen being obstructed by a mobile phone holder, a court has heard.
Anna Rys died almost instantly when she was knocked down in April last year.
Gloucester Crown Court heard she was crossing Crescent Place in Cheltenham when she was hit by Mark Hale's van.
Mr Hale, 41, of Harvest Bank in Carterton, Oxfordshire, denies causing death by careless driving.
Jurors heard Mr Hale made a delivery and then reversed his Citroen Relay van back along a one-way road and into a side road before turning right and hitting Ms Rys.
Prosecutor Robin Shellard said Mr Hale "should have seen her but there are a number of reasons why he did not".
"One of those reasons is that on the right hand side of his dashboard, on the glass of the front windscreen, is a holder for his mobile phone, which he also used, no doubt, for satellite navigation.
"That would have partly blocked his view of people on his right-hand side."
Mr Shellard said there was also a blind spot caused by a pillar in the van, and Mr Hale may have confused Ms Rys with another woman who was similarly dressed.
"We say he did not exercise the degree of care and attention that a competent and prudent driver would exercise.
"She fell in front of his van and both his offside wheels went over her, killing her instantaneously."
Rupert Russell, defending, said Mr Hale's driving "did not fall below the standard required".
"We say you cannot be sure that Ms Rys was in a blind spot caused by his mobile phone holder positioned in his window," he added.
The trial continues.