Woodchester Park: Swimmers 'force herons to abandon nests'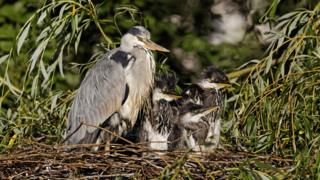 People swimming in lakes at a National Trust property during the recent heatwave have disturbed herons causing them to abandon their nests.
Up to 200 people have taken to the water each evening at five lakes at Woodchester Park, near Stroud.
They also damaged trees and disturbed wildlife by playing loud music and lit fires in "bone dry woodland", Max Dancer from the National Trust said.
He added that bathing was not allowed in the lakes.
Mr Dancer said there were usually about 12 heron nest sites around the lakes but now there were two.
"The recent heatwave has seen a surge in the popularity of the lakes, and although tempting, there are many dangers underneath the water," Mr Dancer added.
The trust said there was no mobile phone coverage and it could be difficult for emergency vehicles to get to the scene.
Woodchester Park is a designated Site of Special Scientific Interest (SSSI) and surrounds the unfinished Victorian Gothic Woodchester Mansion.
The mansion was recently used as a location for the Netflix TV series The Crown and is home to rare Greater Horseshoe bats.