New sponsor call for failing Gloucester Academy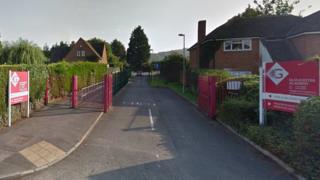 A new sponsor should be found to run a struggling academy, a council's education chief has said.
Gloucester Academy, run by the White Horse Federation trust, was put in special measures by Ofsted in May.
County council schools boss Tim Browne said he has "no confidence" in the trust's improvement plan and urged the Department for Education (DfE) to find a new sponsor.
The trust said it wanted to "transform" education provision at the academy.
A spokesman said the school was redesigning its curriculum to offer each pupil a "tailored combination of academic and vocational skills development, so they can achieve their best".
However, Mr Browne said: "I do not have confidence in the White Horse Federation to bring about the improvements and have asked [the regional schools commissioner] to find a new sponsor."
He described the academy as an "important school in an important area of the city, with some of the most vulnerable children".
Gloucester Academy was formed in September 2010 by the merging of Bishop's College and Central Technology College.
'Rapid improvements needed'
In 2015 it was taken over by the White Horse Federation, which was tasked with lifting the school out of special measures.
But in May, the academy was put back into special measures, after Ofsted inspectors found weak teaching, poor safeguarding and attendance below the national average.
Labour councillor Kate Haigh, who represents the Matson area, said she was "not confident" with the trust and wanted the school back under local authority control.
But Gloucester MP Richard Graham said it can "easily take up to five years" to turn around schools with "real difficulties" and the trust has had only had three years.
A DfE spokesman said it was working with the trust to "ensure it delivers the rapid improvements necessary".
He added: "If improvement isn't made we will take appropriate action which could include rebrokerage of the academy."