Joanna Parrish murder: French killer taken to crime scene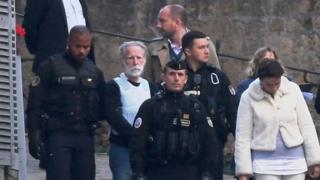 A convicted serial killer who confessed to the murder of a British woman in France 28 years ago has been taken to the scene of the crime.
Joanna Parrish, 20, from Newnham-on-Severn, was found dead near Auxerre in 1990, having been raped and strangled.
Suspect Michel Fourniret returned to the area as part of the French police investigation into the crime.
He has never been convicted of her murder but is serving time for killing seven other women, aged from 12 to 21.
Fourniret, known as "the ogre of the Ardennes", was jailed in 2008 for these murders.
He is understood to have admitted Ms Parrish's murder during a court appearance earlier this year, and is due to stand trial next year, along with his wife Monique Olivier, who is also in jail for her part in some of the previous killings.
Ms Parrish's father, Roger Parrish, said it was "quite emotional" to see pictures of Fourniret back in the areas where he is believed to have abducted his daughter, and where her body was found.
"We've seen the locations many times over the years, but to see Fourniret there was an added dimension and it brought back a lot of memories."
He added that he was unsure why the French authorities had held the "reconstruction".
"We already know that Fourniret has confessed to Jo's murder... but we do look on it as a positive step.
"Maybe the possibility [is] that this will have jogged Fourniret's memory, because as far as we know he hasn't come forward with any real details about what happened between him and Jo."
Fourniret and his ex-wife Monique Olivier have been chief suspects in the case for several years.
Ms Parrish was on a university placement when she died.
Her body was found in the River Yonne in Monéteau on 17 May 1990.