Forest Green Rovers named 'greenest football club in world'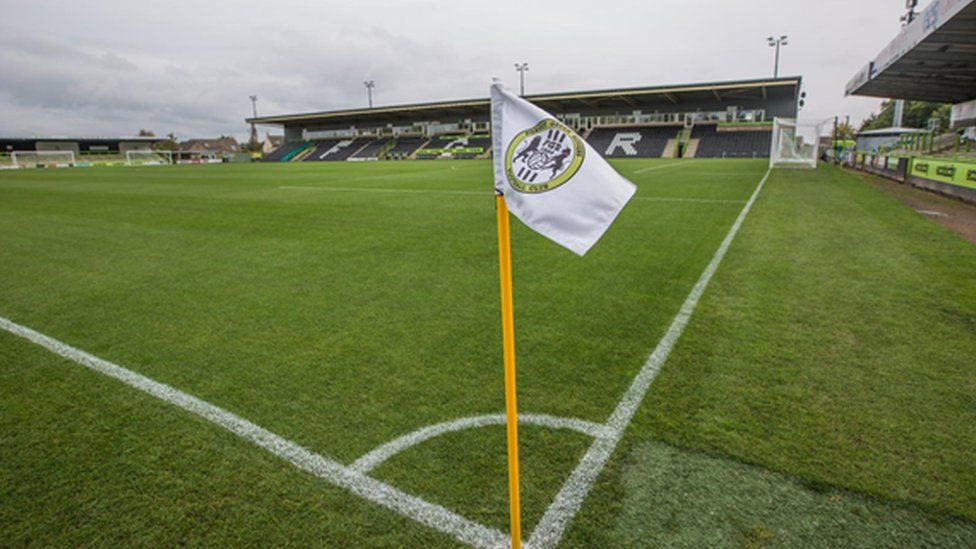 Forest Green Rovers has been named the "greenest football club in the world".
The club's ground in Nailsworth, Gloucestershire, is powered by renewable energy and serves vegan food to players, staff and fans.
In July, it became the world's first UN certified carbon-neutral football club.
Rovers were recognised after signing up for a UN Framework Convention on Climate Change (UNFCCC) initiative called "Climate Neutral Now" for the current season.
At a ceremony in New York on Thursday night, Rovers chairman Dale Vince said they had created "a new kind of football club".
"Plenty of people doubted we could make this improbable combination of a football club and the environment work, but it's proven to be a powerful combination," he said.
Rainwater is collected and recycled, the pitch is cut by a solar-powered robotic lawnmower using GPS, there are charging points for electric cars at the ground, all waste cooking oil is recycled into biofuel and football's world governing body, Fifa, has described it as "the world's greenest football club".
It also provided a "park-and-ride" scheme for fans to cut down on congestion and emissions and works in the local community to promote sustainable living.
The next chapter in the club's rise from non-league includes plans to build a 5,000 capacity ground made entirely from wood on green belt land.
But the scheme has faced opposition from villages nearby over issues such as increased congestion.
Related Internet Links
The BBC is not responsible for the content of external sites.