'Mermaid' to swim along River Thames to raise plastic awareness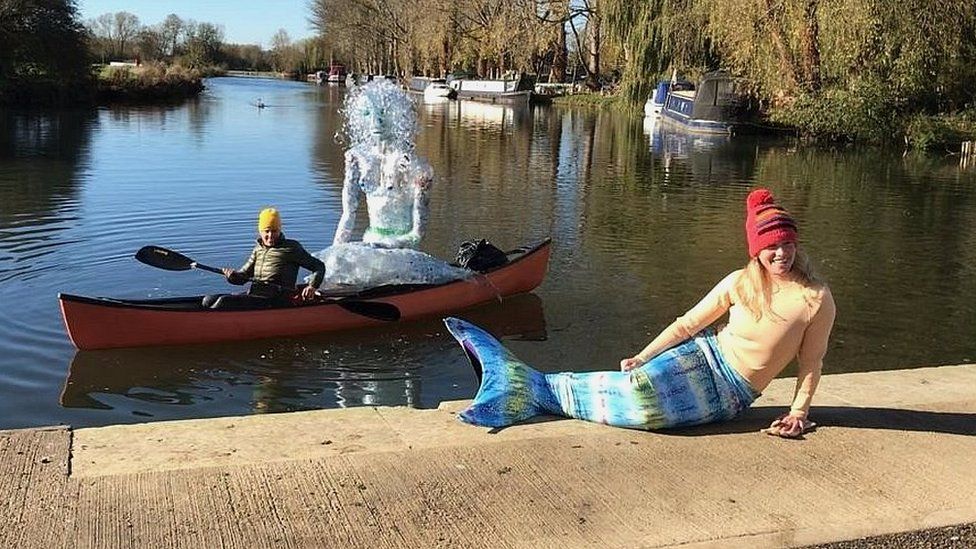 A woman wearing a mermaid's tail has begun a 200-mile swim along the River Thames to raise awareness of single-use plastic
Lindsey Cole took to the water on Friday in a wetsuit, tail and woolly hat about 20 miles from the source of the river at Lechlade, Gloucestershire.
She is also asking passers-by on the river to litter pick for two minutes.
"My first three days it's going to be 30 miles in three days so it's going to be a baptism by fire," Ms Cole said.
Ms Cole will be visiting schools along the route during November to help educate pupils about plastic.
Describing herself as an "Urban Mermaid", Ms Cole said she had "not done as much training" as she would like to have done but "hopes it all goes to plan".
"It starts in Lechlade, which is the most swimmable part closest to the source of the Thames, and I'm swimming right down to Teddington," she added.
"My first time using a tail, I swam from Alcatraz to San Francisco which was two miles and that was pretty cold so it's just a matter of keep going really."
Along with swimming for about four hours a day, her support canoe will also be towing a giant mermaid sculpture made out of plastic bottles.
"We're asking passers-by to litter pick and put the plastic into our mermaid sculpture," she said.
"So by the time we reach London she'll represent how we're choking our mermaids and creatures with plastic."
Related Internet Links
The BBC is not responsible for the content of external sites.