Tewkesbury man's 'tragic' Christmas film goes viral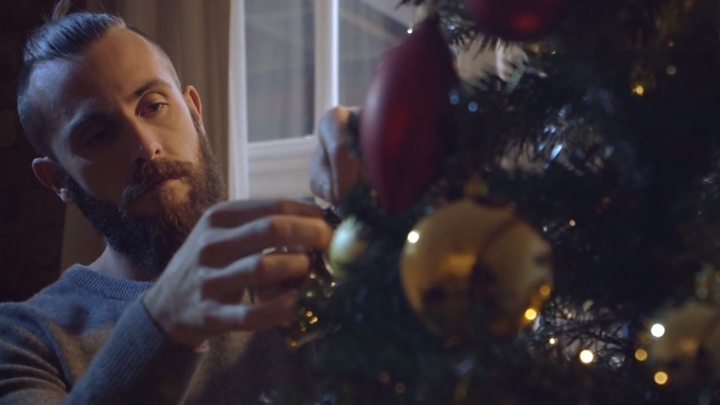 A video producer says the fact his John Lewis-inspired Christmas film has gone viral is "a dream come true".
Love is a Gift shows a man counting down the days to December 25 continuing a tradition sparked by a tragic family moment from his past.
The film, made in 2014, has been watched by 6.5m people since creator Phil Beastall republished it on Sunday.
He said: "It's gone so much further than I could ever have imagined."
The 32-year-old film-maker, from Tewkesbury, said he had been "desperate" to make something Christmas-themed.
"I just wanted to make something impactful that would resonate," he said of the film.
"I thought it would be a nice story to tell. It wasn't inspired by a true story.
"I just wanted to create something that would remind people that we are lucky to be alive."
Mr Beastall says he has now had considerable interest from TV and film production companies around the world, with one firm even offering to fly him out to Canada for a meeting.
You may also like:
"To go viral is a dream come true. I'm so pleased with the reaction. If opportunities do come from it I will be delighted," he said.
"It's really difficult to be noticed in this industry. I feel like I can do really good work and until now no one was seeing it."
Mr Beastall said he had been inspired by the first John Lewis Christmas advert in 2007.
Since then the department store chain's sentimental television advertising campaigns have become something of an annual UK tradition.
Mr Beastall said: "The first John Lewis advert is still my favourite, and told a good, honest story.
"When I saw this year's one I appreciated it, but I wonder whether the heart has been lost in comparison to the first advert they released."
Mr Beastall said of the three or four films he has produced so far, Love is a Gift is the one he is most proud of.
He said: "People who have lost loved ones have said watching my film has helped them, and it's why I made it - to make people feel happy."