Privacy concerns raised over anti-gull flying drone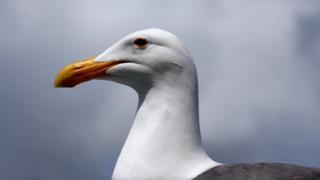 An anti-gull drone aimed at spotting out-of-sight nests could be used to film through bedroom windows, councillors fear.
Cheltenham Borough Council wants to buy a drone similar to one used in Worcester being used to tackle the bird's growing population.
But Councillor Max Wilkinson said: "A drone could be well be close enough to see through our bedroom windows".
The town's gull population has risen to nearly 500 nests in recent years.
The drone is one of several ideas that was put to the council's cabinet, with other options include increasing the budget to deal with it by £10,000.
Councillor Dilys Barrell also talked about problems with the gulls in particular places.
'Utterly illiberal'
"There is a block of flats in Park ward where gulls are nesting, and is frustrating residents. The housing association has completely refused access to clear it", said Councillor Dilys Barrell.
One of the paper's suggestions is for the council to establish what powers it has to force property owners to gull-proof their buildings.
But Councillor Dennis Parsons branded the idea as "utterly illiberal".
Klara Sudbury, the councillor tasked with reducing the town's gull problem, expressed frustration over the time it was taking to approve plans to tackle the problem.
"It is just frustrating that I have seen many other reports with less detail and bigger budgets go through without so many questions," added Ms Sudbury.
"The issue affects so many residents, and we tried to represent them with this report in the short time we had to write it," adding she was "frustrated on their behalf."