Plans for £22m revamp of A40 in Cheltenham announced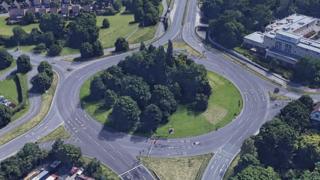 More than £20m will be spent upgrading the A40 from Cheltenham to the M5 motorway, council bosses have said.
The project will include widening the Arle Court Roundabout, adding extra lanes past GCHQ and increasing capacity at J11 of the M5.
The planned work comes ahead of the development of a £650m cyber business park on the western edge of the town.
Work on the £22m A40 road scheme is expected to start in autumn 2019 and be completed by March 2021.
Chief executive of Gloucestershire Local Enterprise Partnership, David Owen said: "It's really important that we invest in the right infrastructure that unlocks the potential of the UK's cyber security park in West Cheltenham.
"It's an enormous opportunity for Gloucestershire to really stand out with a world-class facility, which sits right alongside GCHQ which is one of our unique assets in the county."
The council's cabinet is due to approve the project on 19 December.
Planning applications for the cyber park have not yet been submitted, but the road proposals need to be in place to prepare the town for its development.