Ghost sculptures of WW1 soldiers given to their families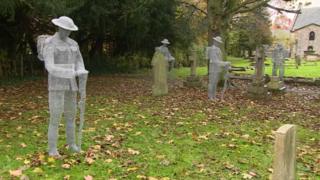 "Ghostlike" sculptures of soldiers placed at the foot of their own graves have been given to their families.
The 11 life-size figures were made by Jackie Lantelli and put in a Gloucestershire churchyard to mark the centenary of the end of World War One.
The sculptures were due to be recycled but were so popular they have been given to the soldiers' descendants.
Kevin Wherrett, who now owns statues of his two great uncles, said it was "like bringing their souls home".
The ghostlike sculptures made from chicken wire were erected in Slimbridge cemetery on 8 November.
Since then, Ms Lantelli said they had begun to "represent more than just statues" and returning them to their families was "like they're finally going back home from the war".
"It was originally just going to be two stood by the entrance of the church but then when I found out there were soldiers buried in the graveyard, I thought let's put them at the end of the graves looking at their own headstones," she said.
"The plan was to make them and then strip and mould them into other things but over the weekend they changed from being sculptures to actual people."
Powerful response
Ms Lantelli said people who had visited the figures had become "very emotional".
Mr Wherrett said following a "powerful response" from the public it had been "very important" to have his two great uncles, Fred and Joe, at home.
"They seem to have a soul now. Being by the graves and all the people who came to see them, they seem to have got their own characters now," he said.
"They were the only two brothers in the village that went so it's like bringing them home to where they grew up as children and bringing their souls home to rest."