'Remarkable' puppy survives overdosing on owner's pills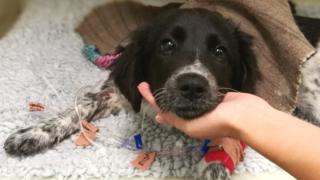 A puppy that swallowed a potentially lethal dose of its owner's tablets has made a "remarkable" recovery.
'Monkey' escaped her pen, chewed through a child-proof lid on a pill pot and ate more than 100 5-HTP supplement tablets belonging to Bev Morgan.
Ms Morgan, who is undergoing treatment for cancer, said she found the dog collapsed on the floor the next day.
The Veterinary Poisons Information Service said Monkey was "incredibly lucky to be alive".
The young crossbreed had only been with her owners in Cheltenham for a few weeks, when she got out of her sleeping pen and devoured a "high dose" of the supplement.
Speaking for the first time since the overdose in July, Ms Morgan said that within hours the puppy had lost all voluntary motor and bowel function and was suffering fits.
Ms Morgan was told by the vet the dog's chances of survival were slim.
"The vets warned us that even though they were doing everything they could, we should prepare ourselves for the worst," she said.
"And even if she did survive, it was likely that she could suffer permanent damage to her internal organs or maybe even brain damage."
After receiving treatment from both the emergency vet and at a specialist centre in Birmingham, little Monkey was able to go home the following day.
However, Mrs Morgan said it was "several days before she was back to anything like her usual self".
Nicola Robinson, from the Veterinary Poisons Information Service, said to survive ingesting that amount of 5-HTP had been "remarkable".
"The quick actions of the owners and the vets gave Monkey the best chance - she's incredibly lucky to be alive and have no permanent side effects," she added.