Tewkesbury fair's royal charter upheld despite Covid cancellation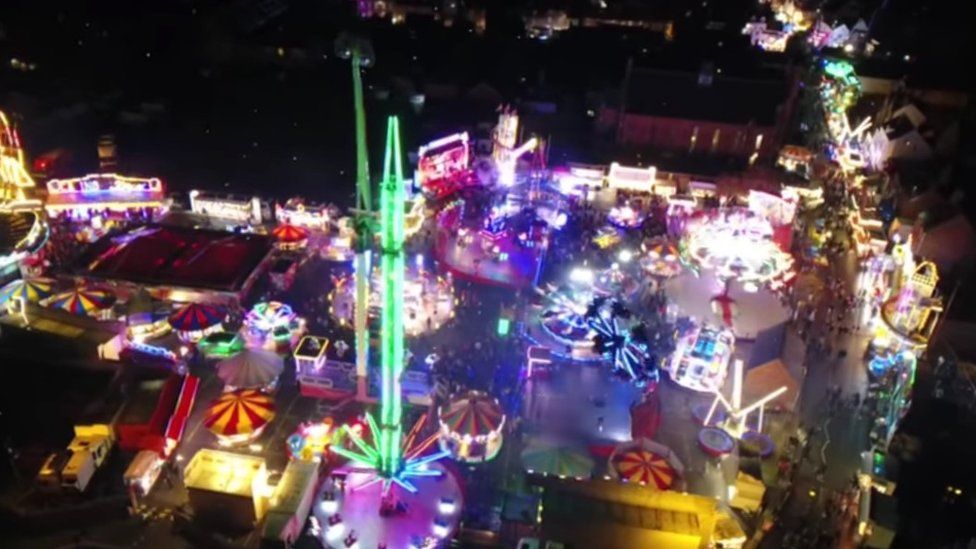 A Gloucestershire town is to ensure its Royal Charter remains intact despite its annual mop fair being cancelled due to the coronavirus pandemic.
The annual event in Tewkesbury dates back to 1199 and the town was granted the right to hold it by Royal Charter in 1610.
A solitary pirate ship fairground ride in the town on Friday will ensure the fair's charter is upheld.
This is only the second time the fair has been cancelled since World War One.
'Mop' fairs have been an annual tradition in many English towns for hundreds of years.
They are generally held on or around Old Michaelmas Day in October, and coincide with the harvest.
Tewkesbury Borough Council said members of the public will not be able to use the pirate ship ride, but its "symbolic presence in the town" will see the fair's charter continue into the future.
Event licensee James Danter said: "Making the decision to cancel this year's event was very difficult, but we know it was the right thing to do.
"With the crowds we were expecting, it would have been impossible to achieve the safety measures needed to be Covid-secure.
"I'm really pleased we've been able to secure a site in Tewkesbury that will host our pirate ship ride and, as a result of its presence, the Royal Charter is kept alive.
"We look forward to next year when, all being well, the Mop Fair will be back."
The Tewkesbury Fair Society will accompany the ride, with an information stand for people to find out more about the fair's history.
Tewkesbury Borough Council's Robert Vines said: "It's been a pleasure to help the mop fair keep its historical ties with Tewkesbury.
"Hopefully, by next year, the virus will be under greater control and we can welcome the mop fair and its thousands of faithful customers back to the town."
Related Internet Links
The BBC is not responsible for the content of external sites.