Ash dieback: Westonbirt to fell 5,000 infected trees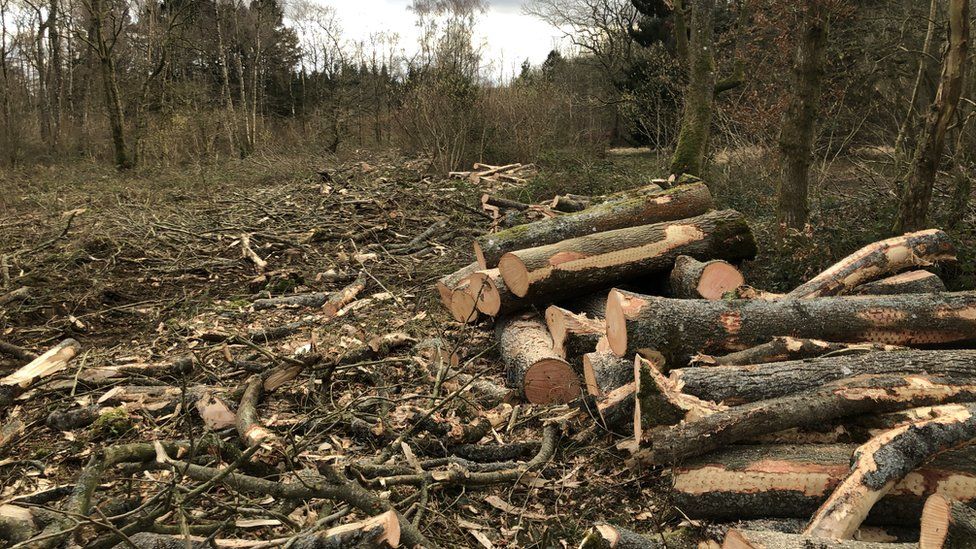 The site's 200-acre Silk Wood has been closed for the removal of 2,000 ash trees over the next four weeks.
A further 3,000 trees infected with the serious fungal disease will be removed at a later date.
New species of other trees will be planted in the next five years to ensure the long-term future of the woodland near Tetbury, Gloucestershire.
Signs that ash dieback was infecting ash trees at Westonbirt were first seen in 2015 and some trees were removed in 2019.
The disease affects ash trees by blocking the water transport systems, causing leaf loss, lesions and leading to dieback of the crown of the tree, which makes it brittle and places it at risk of collapse.
Timber from the felled trees will be sold as firewood and branches will be turned into 'brash mats' placed under the heavy machinery to protect the soil.
Andy Bryce, collections manager, said: "It is disheartening after all the work we've done to try to manage it and the loss of trees will have a big impact.
"But the future of the woodland is so important, we are looking forwards 100 years and if we don't do this now it will be too late because we need to re-plant as soon as possible."
Despite the disease, Mr Bryce said the future for the ash tree was hopeful.
"There will be a much-depleted population but the ash tree will not disappear entirely as we have seen some ash trees that are showing signs of a natural resistance to ash dieback so new generations are building a genetic resistance."
Related Internet Links
The BBC is not responsible for the content of external sites.