Gloucester: Experts to study Roman wall found in city centre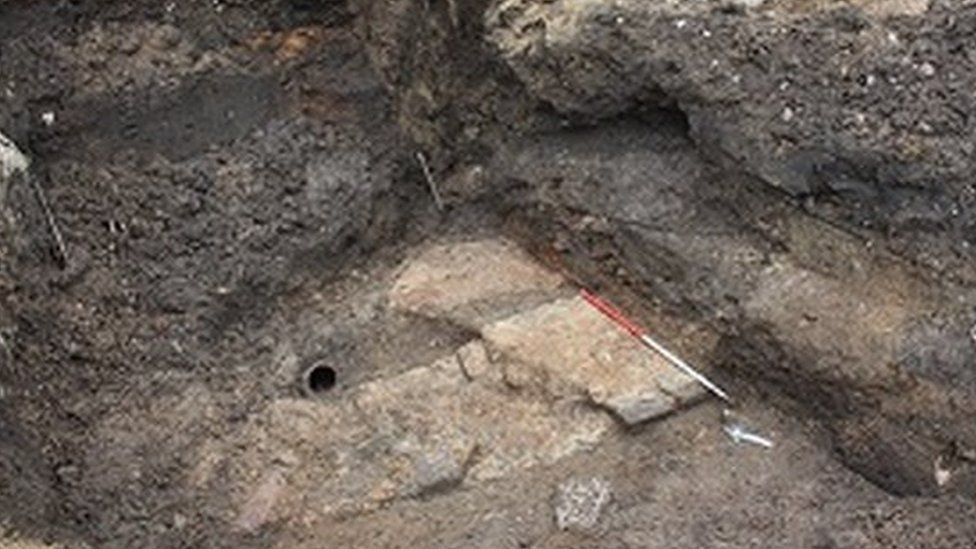 Archaeologists preparing for a revamp of part of Gloucester city centre have uncovered a Roman wall.
The limestone structure was found 2.1m (6.8ft) below ground level as part of work for the King's Square redevelopment.
Experts say that it is aligned 45 degrees to the city's Roman walls and that it was probably an internal corner tower.
Further work is due to take place at the site to excavate further.
The wall was found at the corner of King's Square, between the Subway sandwich shop and The Regal pub.
Gloucester City Council said it was "certainly" of Roman construction and was found surrounded by "large amounts of Roman pottery".
The tower itself is damaged because its north western side was removed by the installation of an underpass in the 1970s.
Andrew Armstrong, who works as an archaeologist for the city council, said it was a "really interesting structure".
"We're quite lucky it survived because so much of this area has been very badly damaged," he said.
The wall was discovered during excavations as part of a £85m city centre revamp which includes a hotel and multi-storey car park, along with the replacement of ageing buildings with 156 new homes, office space, restaurants and bars.
Related Internet Links
The BBC is not responsible for the content of external sites.