Minchinhampton crash pilot 'poisoned by carbon monoxide'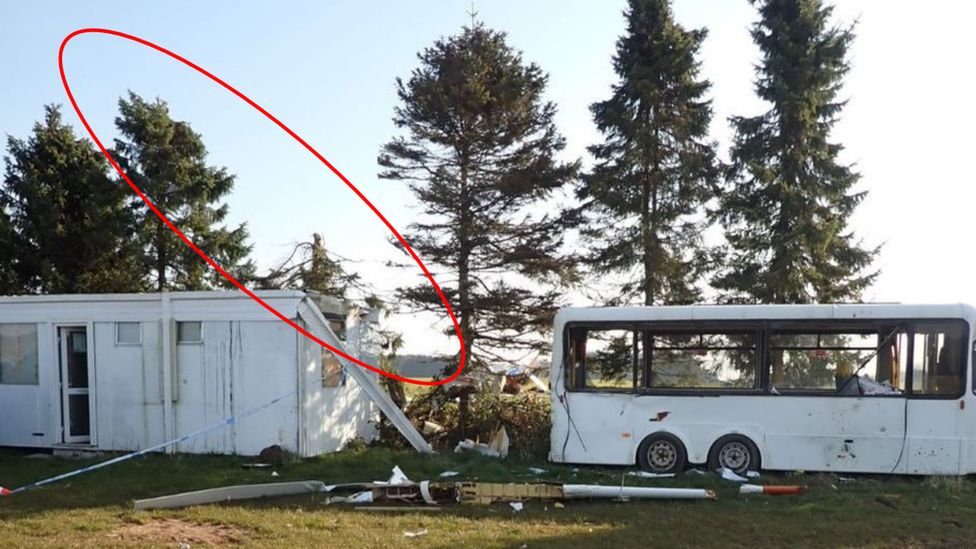 A pilot whose glider was destroyed when it hit the ground had been suffering from carbon monoxide poisoning, a report has found.
He had been incapacitated but regained consciousness just before the glider struck the ground, the Air Accidents Investigation Branch (AAIB) said.
Wreckage from the aircraft was strewn across two fields.
Investigators said it was likely the pilot had only survived because of his seat harness, the rigid structure of the fuselage and the way the aircraft hit the ground, near Minchinhampton.
The pilot said he remembered regaining consciousness at "very low altitude" but was unable to recover control of the glider before it struck the ground. He said he then lost consciousness again.
The aircraft's right wing tip touched the ground three times before it hit a parked bus.
On contact the wing detached from the glider and the fuselage and left wing sliced through trees and what remained of the aircraft fell in the next field.
An eyewitness said she saw the glider fall but then lost sight of it behind trees. On hearing a loud bang, and assuming it had crashed, she called emergency services.
She walked to the location where she found the pilot seriously hurt and provided first aid before emergency crews arrived.
Investigators said it was "highly likely" carbon monoxide had entered the glider's engine bay during the flight and that it had leaked into the cockpit.
The AAIB found although the leakage might have been "minimal", the effects would have built up during the flight.
It added that, as a contributory factor, the possibility of partial or complete engine failure "could not be ruled out" as a result of the carburettor icing, given the weather conditions on the day.
Related Internet Links
The BBC is not responsible for the content of external sites.