Tewkesbury man first to swim 47.1 miles of River Avon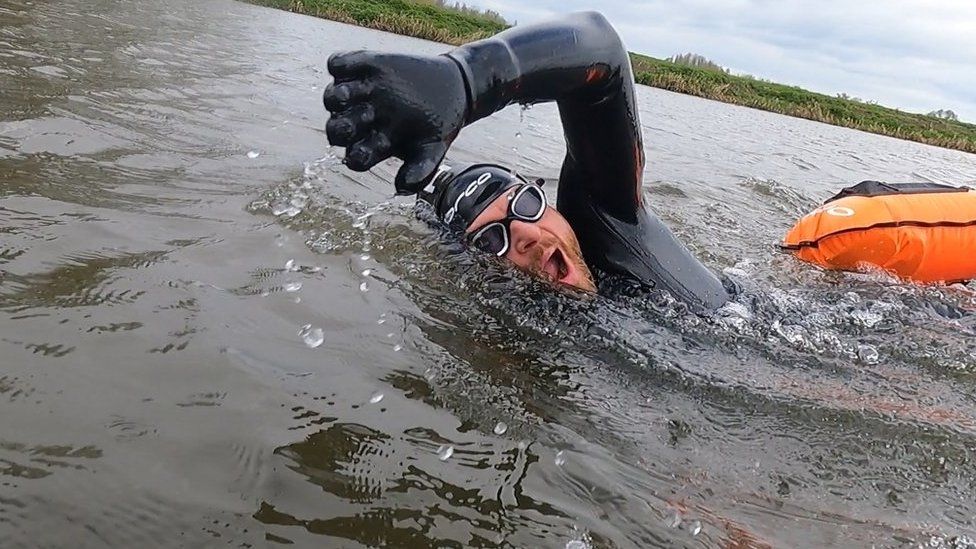 A former lifeguard has battled injury and a stomach bug to swim the navigable length of the River Avon in an apparent first.
Craig Openshaw, from Tewkesbury in Gloucestershire, swam 47.1 miles (75.8 km) in 29 hours.
He said despite his doctor's warnings "the lunch stayed down so we decided to crack on and have a go at it".
Mr Openshaw believes he has set an unofficial world record, but said it could not be counted as a Guinness World Record because they had hit their limit of open water swims.
Avon Navigation Trust confirmed it did not have a record of any other attempts to swim the full length of the navigable reaches of the river.
Suffering from a fever and upset stomach the day before he was due to start, Mr Openshaw said his doctor warned: "I risked doing serious internal damage if I did the challenge."
He ploughed through to complete the challenge on Sunday, only for a shoulder injury to cause the team to consider stopping.
"I was struggling to turn my arm over. That was probably the lowest point of the swim," he said.
After receiving sports therapy from volunteer Rebecca Carroll, Mr Openshaw returned to the water.
"Then we limped to the finish line," he added.
Teammate Rob Stringer said: "It was heart-breaking to watch him doing the one-arm front crawl.
"He was just getting on with it, but never in one part of me did I not think he would complete it.
"We're just five rag-tag lads. We're not the most professional outfit, but look at what we've achieved."
Mr Openshaw said: "When you read the JustGiving page there's loads of people who give you an insight into how (cancer has) affected them.
"I think it gave people a bit of hope.
"My next goal is to get our current fundraising total to £20,000."
He praised his support team, particularly Mr Stringer's father-in-law, 62-year-old Bob Bain.
"Bobby did the whole way in a kayak guiding me through the night swims. At the end he could barely move his legs."
The challenge was held on the anniversary of Mr Bain's wife's death from cancer.
"It was a personal mission for Bobby, for sure. Hats off to him," added Mr Stringer.
The former lifeguard hopes to swim the River Severn next year, but said he would take a break for the sake of his young family.
"My wife, bless her, has had to go through all sorts of hassle. She hasn't moaned once."