Family of paralysed man 'overwhelmed' by £30,000 fundraising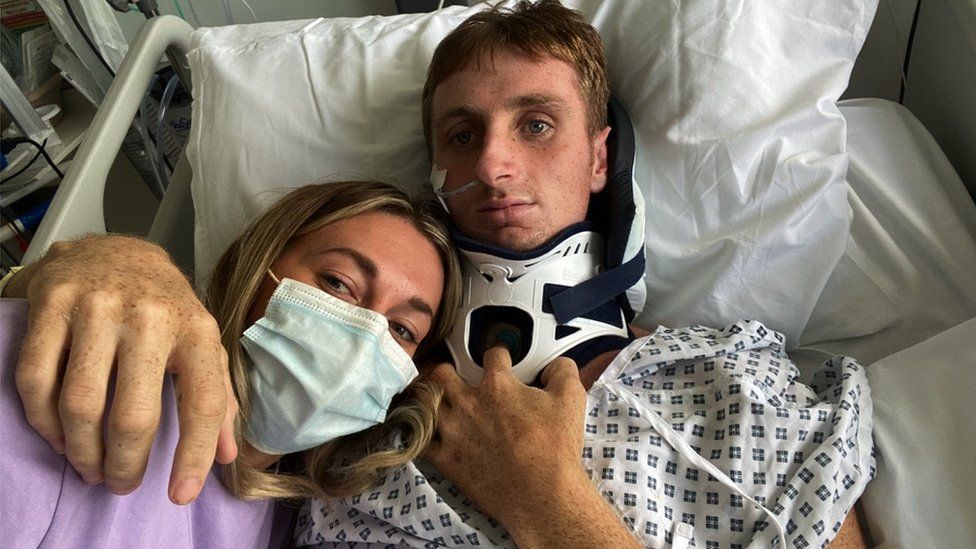 The sister of a 20-year-old man who is unlikely to walk again after a biking accident says she is "overwhelmed" by the "incredible generosity" of well wishers as fundraising passes £30,000.
Ki New suffered life-changing injuries in a two-feet jump that went wrong in the Cotswolds in July.
His family is trying to raise £50,000 to pay for the "intense private physio" Ki will need when he leaves hospital.
His sister Elisha New said: "He's been told he's unlikely to walk again."
She added: "But the support we've had pushes and motivates Ki to keep fighting through the hard days."
Mr New, of Fairford, Gloucestershire, was cycling in Cotswolds woodland on 22 July when he went over his handlebars, hit his forehead on the ground then flipped over and broke his neck, broke and dislocated his back, fractured five ribs and punctured a lung.
He was taken to John Radcliffe Hospital, in Oxfordshire, where he underwent a six-hour spinal surgery and was told afterwards he was unlikely to walk again.
Ms New said: "It was almost like we were all numb, just complete disbelief, extremely hard, horrible and devastating and we didn't know what to feel or think."
She contacted a friend whose husband had been through a similar experience.
"Her advice was to set up a fundraising page. She said although it's the last thing we want to think about, it will help Ki and also be some way others can help because they will want to."
She added: "Not knowing how much to ask for, we put £20,000 and we smashed that in 72 hours.
"We couldn't believe the response, it was incredible and shows what a great person Ki is and how much support Ki has and our family has, we couldn't be more grateful."
She said the family moved the target to £50,000, which will pay for specialist spinal physiotherapy only available privately.
"Ki wanted to die after the accident," Ms New continued. "He's a roofer, which relies on strength and being active and when he finishes work he goes to the gym, I don't know anyone more active than my brother.
"It's so hard to tell people the severity of it. Because he's paralysed from the chest down, and can't feel his stomach, just to cough now he has to give himself the Heimlich manoeuvre."
Mr New had his tracheotomy removed on Tuesday and had food for the first time since the accident.
"It was quite an overwhelming day," his sister continued. "Ki was panicking and sick with anxiety because he was so worried he wasn't going to be able to breathe but it felt like such progression.
"He was just so grateful for the food."
Ms New said she has always believed her brother will walk again.
"I don't know if that's denial or naive but I know he'll do everything in his power to walk and we want to give him the best possible resources to help that happen.
"He's up for the fight for sure."