Mela organisers want place in Southampton art complex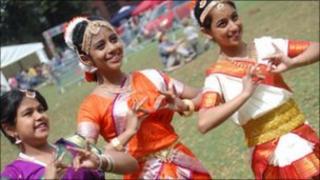 The organisers of one of Southampton's largest cultural events has launched a campaign to ensure their presence in the city's planned new Arts Complex.
About 20,000 people attended the Mela festival in Hoglands Park on Saturday to experience Asian music and culture.
Art Asia has spent 10 years and £750,000 to help realise plans for a new arts venue at Guildhall Square.
However, it said it had been told by the council and the Arts Council that it would no longer be an anchor tenant.
Councillor John Hannides, of Southampton City Council, said he could not comment specifically on Art Asia's concerns because the plans for the Arts Complex had not yet been approved.
The Arts Council England will decide next week whether it is going to support the project.
If the city council gets Arts Council England's backing it will move the plans forward, Mr Hannides said.