Southampton librarians postpone strike for second time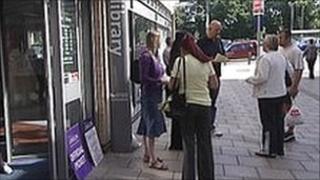 A second strike by Southampton's librarians angry at plans to replace some of them with untrained volunteers has been postponed for the second time.
The librarians, who held a one-day strike on 21 June, believe volunteers lack their skill and commitment.
Unison said the two-day strike, now due on 6 and 8 August, had been delayed again while a postal ballot is held over a new offer from the council.
Southampton City Council said it had to cope with "difficult economic times".
'Avoid job cuts'
Unison said it had discussed a new offer on Wednesday but only 50 of the 80 librarian union members could attend and they decided to hold a postal vote.
The union also said it would hold further talks with the city council on Thursday in a bid to improve the terms.
Unison branch secretary Mike Tucker said: "Members in the library service do not wish to strike until they are sure that all possibilities of reaching agreement with the council have been exhausted.
"This two-week period will enable all library staff to vote on the council's revised proposals."
The council plans to recruit members of the public to carry out unpaid work in the libraries to cover seven librarian posts and save money.
Councillor John Hannides, the council's cabinet member for leisure, culture and heritage, said the planned measures would help avoid job cuts.