Farnborough plane orders falls short of previous record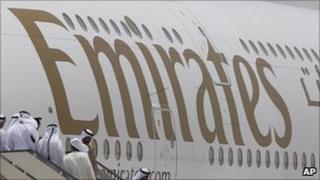 The value of orders taken at this year's Farnborough International Airshow is already in advance of 2006 but will fall short of 2008's record.
Orders for the 2010 show in Hampshire, which ends later, have so far reached $47bn (about £31bn).
They include big orders for Airbus planes, whose wings are made in the UK.
The 2006 show saw $46bn (£29.8bn) worth of orders taken, while 2008 saw orders reach $88.7bn (£57.5bn).
Ian Godden, chairman of aerospace, defence and security trade organisation ADS, said: "The 2010 show has been very successful and the figures demonstrate the mood of strong optimism that there has been around the show this year, which is very encouraging given the current global economic climate."
Visitors on the trade days of the seven-day show, which began on Monday, have totalled more than 120,000 - about 8% down on 2008.
Organisers expect total attendance to reach the 285,000 mark achieved in 2008.
The first deal announced at the show involved Emirates buying 30 Boeing 777 aircraft for $9.1bn (£5.9bn).